A MEXICAN TRADITION: EL DÍA DE LOS MUERTOS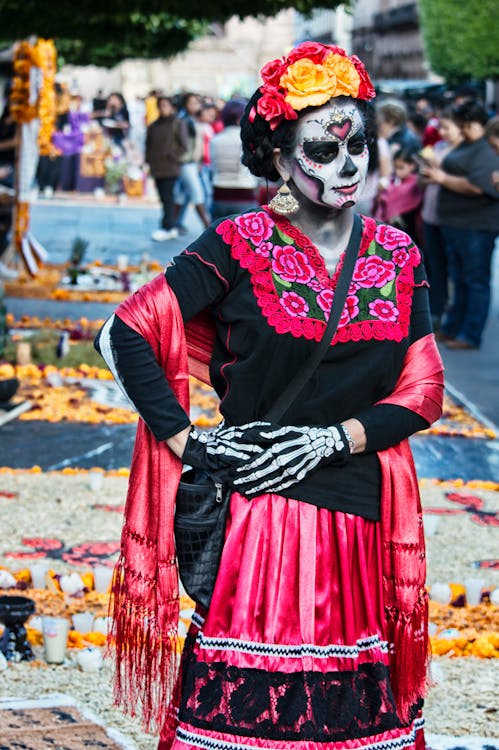 Celebrated at the beginning of November, the Day of the Dead or "El día de los muertos" is a Mexican tradition known worldwide. Registered on the Intangible Cultural Heritage of Humanity by UNESCO, this celebration aims to commemorate the deceased through different typical Mexican customs. So, if you want to know more about this tradition, you've come to the right place!
1- When is the day of the dead celebrated?
Unlike one might think, "el día de los muertos" takes place over three days.
 The celebrations begin on October 31 with the commemoration of the "angelitos" (the deceased children). On that day, as soon as noon rings, altars are dedicated to them and at 7 p.m. At this hour, they are offered a traditional sweet snack.
On the morning of November 1, breakfast is offered to them and placed on the altars. Later, the "angelitos" are replaced by the deceased adults.
On November 2, the celebrations continued in the graveyards. Mexicans go to their parents' graves, throw flower petals and light candles.
2- How are the altars organized?
In Mexico, the organization of the altars is quite peculiar. They can be organized in:
2 floors representing Earth and Heaven.
3 floors illustrating Earth, Heaven and the Other World.
7 floors symbolizing the 7 steps leading to eternal rest.
However, if the arrangement of the altars may vary from one family to another, you can be sure to find photos of the deceased, their personal belongings, their favorite dishes, flowers, bread of the dead, sugar skulls, a religious cross, candles, incense, water and salt.
3- What happen during the celebrations of November 2nd?
While the commemoration of the "angelitos" takes place on at homes' altars, this is not the case for adults who have passed. On that day, feasts with the favorite dishes of the deceased take place on the cleaned and flower-decorated tombs. During these celebrations, everyone talks, laughs, sings and dances with the "souls" of the deceased. Indeed, for Mexicans, the dead ones are present with them on that day. "El día de los muertos" is thus synonymous with joy since they do not consider death an end but rather a journey from which one can return for a day. It is therefore normal, to attend colorful and animated parades on this date. Mexicans organize competitions for the most beautiful Catrina (a female skeleton dressed in rich clothes, an emblematic figure of the Day of the Dead), concerts and dance performances to honor the deceased.
Now you know a little more about the day of the dead or "el día de los muertos" in Mexico. If you liked this article, please feel free to check out our article on traditional festivals around the world!